We have just released the new version of our Power BI visuals, both Zebra BI Charts and Tables. In the update 4.2.0, a lot of highly-requested features have arrived in full strength, so let's dive in and see what changed.
Up to 4 measures in a single table — Until now we supported 3 base measures for one table (e.g. actual, previous and plan). With this version, we will allow up to 4 scenarios/base measures at the same time. For all of you who wanted to compare actual, previous (year), plan and forecast in the same visual.
New highlighting possibilities — You can now highlight columns in Charts or Tables. There's always one default color that you can specify in the Style, but you can also customize color of each element individually.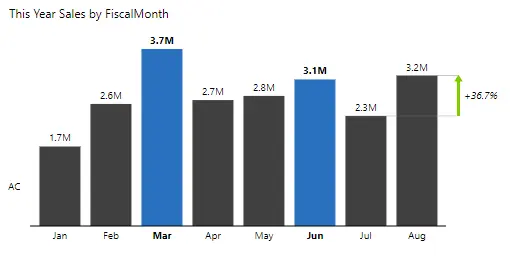 New design options in Zebra BI Charts — You now have even more flexibility in designing Charts. For example, the COVID-19 dashboard we made before is using opacity Variance area opacity, so areas can be slightly transparent. This tones down the whole design and the difference in variance becomes more visible. Similarly, you can control the line width and use different arrow options with the Difference highlight.
More control over the labels on chart axis — One of the most difficult things in data visualization is showing the right amount of labels and make sure they don't overlap. You can now control the number of displayed axis labels. This is especially helpful when the visual contains many elements and the overlap begins to happen. These smart labels with collision detectors are only one of many benefits we add-on to Power BI.
You can go through all of these and many other improvements with our CEO, Andrej Lapajne, in this video:
Check our changelog and product update page for more detailed notes on the improvements.
Download your PBIX files with examples of the newest features!
The changes are live right NOW and you can start using both, Charts and Tables. Just make sure that the newest version has been downloaded and installed.
Sign up for the free trial of the Zebra BI pro version and test these features for yourself!